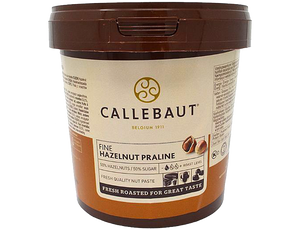 Callebaut (Belgium)
Hazelnut Praline
Regular price
Rs. 2,690.00
Rs. 0.00
Unit price
per
Tax included.
Shipping
calculated at checkout.
Callebaut®'s praline with 50% medium roasted hazelnuts.
Callebaut® selects the finest hazelnuts from orchards in Spain, Italy and Turkey. Picked when they're fully sunripe, the hazelnuts are stored under the best conditions – away from light, temperature changes or air for max. 12 months. They're shelled max. 12 hours before roasting to protect their essential oils and preserve their delicate, fruity flavours. The hazelnuts are then mildly roasted, ground, mixed with sugar and rolled into golden praline. 
You can expect a pleasantly sweet taste with an abundance of fruity notes and mild toasted hints. 
Callebaut® Hazelnut Praline is just perfect for mixing with chocolate to create the filling of your moulded pralines and tablets. You can also count on this praline to flavour your ice cream, pastry crèmes, bavarois, mousses and so much more.
Description - Praline from medium roasted hazelnuts. 
How To Use - Mix with chocolate for fillings or mix in ice cream, mousse, bavarois base to flavour.
Main Features - Golden praline with 50% hazelnuts.
Texture - Smooth
Color - Golden
Composition - 
---
Share this Product
---