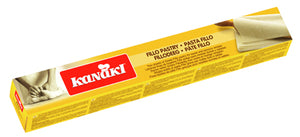 Kanaki (Greece)
Filo Pastry Sheets (450 gms)
Regular price
Rs. 600.00
Sale price
Rs. 675.00
Unit price
per
Tax included.
Shipping
calculated at checkout.
Thin Filo pastry sheets made from premium quality flour. It is extremely flexible and can be shaped in many different forms.
Once baked, KANAKI Filo pastry becomes crispy and golden brown. Its delicate taste will enhance the taste of the filling you have chosen to envelop. You can use it successfully for savoury as well as for sweet pastry creations.

Each item contains 11-12 sheets
1. Storage instructions
Keep in freezer (max -18°C) *** until best before date (see side of packaging). Can be stored in refrigerator (+4°C) for 15 days. If not kept in the freezer, use it on the day of purchase.

DEEP FROZEN PRODUCT
2. Defrosting instructions
Before using the KANAKI Filo pastry, let it thaw at room temperature for at least 2 hours in its sealed packaging so that it won't lose its moisture. Do not try to unfold Filo pastry that is not completely defrosted because it might tear apart. Once the packaging is open, keep the Filo pastry covered with a slightly damp towel during the preparation of your recipe so that it will remain moist. 

ONCE THAWED DO NOT REFREEZE
---
Share this Product
---