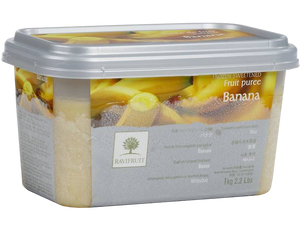 Ravifruit (France)
Banana Puree (1 kg)
Regular price
Rs. 1,195.00
Rs. 0.00
Unit price
per
Tax included.
Shipping
calculated at checkout.
Smooth, sweet and creamy, bananas add that satisfyingly filling flavor to a dessert. Ravifruit's Frozen Banana puree is made simply, with a natural recipe without any additives or preservatives, just fruit pulp and cane sugar. French giant Ravifruit, a world leader in fruit purees, adapts their process to each fruit, respecting fruit and nature, and creates a puree that is smooth, delicious and easy to use. The fruit is carefully selected and harvested when fully ripe, guaranteeing constant quality.
 Use for: Sorbets, ice creams, fruit mousses, bavarois and charlotte desserts, fruit jellies, iced and pastry desserts, coulis, glazes, jams, jellies, cocktails and much more! Directions: thaw out in the fridge for about 12 hours, or at room temperature for 8 hours. Store in the fridge after opening and consume quickly. Product may be refrozen once defrosted and may arrive partially defrosted. Don't know where to buy banana puree? Gourmet Food World has you covered- order online today.
Keep refrigerated at -18°C max.
---
Share this Product
---